If you're looking for authentic, historical, British military fabrics for re-enactment uniforms, repairs or costumes for plays, films or television productions. You've found them.
---
About Historical British Military Uniform Fabrics
British military uniforms during World War 1 (WWI) and World War 2 (WWII) used woollen fabrics. The main reason being, that wool is a naturally flame resistant fabric, that can char at most, but doesn't flame or melt. Furthermore, uniforms made of wool were naturally breathable as well as being warm. This helped to keep soldiers, sailors and airmen comfortable in battle.
Another reason wool was used for uniforms for the British Army, Royal Navy and Royal Air Force, is that wool is durable and hardwearing.
To increase the strength of the fabric, a worsted yarn was used. Typically these are woven into fabrics with a twill pattern.
The Authentic Historical Military Fabrics We Supply
Some of the fabrics that we supply are still produced on the same looms and using the same skills that produced the fabrics during the world wars. This, therefore, ensures their authenticity, as they are an exact reproduction of the original fabrics.
Little Change in 70 Years – A Customer's Story
A customer reached out to us with an interesting story. One of his relatives had a furniture shop in Wimbourne, Dorset. All of his relative's sons had joined the Royal Navy during the second World War, so his relatives dressed a doll in a naval ratings uniform, to display in the window in order to collect donations for service men and women.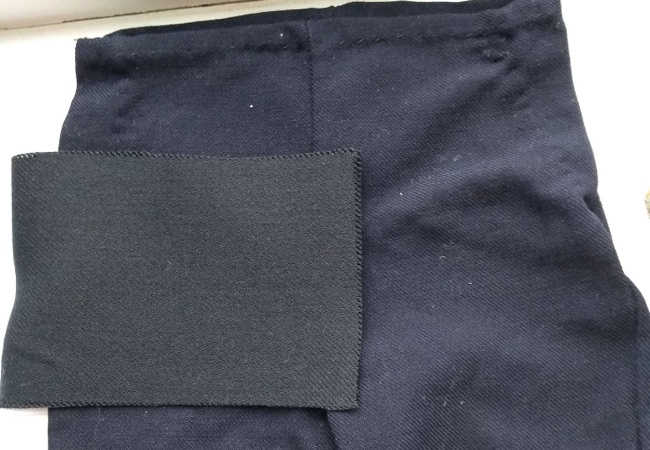 After the war, the doll was lost for 70 years, until he was recently rediscovered. Though he was missing his hat. The customer wanted to recreate the hat using the same cloth, so he purchased a remnant of Navy Serge Whipcord. As you can see in the image (above left) little has changed, other than a slight variation in colour – unchanged in 70 years!
Historical Military Fabrics
Authentic Historical Military Fabrics
We have combined from across the ranges that we stock, all the historical military uniform fabrics together. These feature authentic fabrics used for WWI and WWII uniforms, for each of the armed forces, Army, Navy and Royal Airforce.