Baize is an incredibly versatile fabric. It is an ideal material for lining boxes and furniture, due to its flexibility and durability. One of our customers – Nina Oortman – a furniture designer and maker, used baize supplied by us as an elegant lining for a jewellery box she was making. Here is her story.
---
I decided to make a jewellery box for my mum. My design aesthetic is to focus on simplicity and clean lines, taking inspiration from the Bauhaus, Scandinavian and Japanese design. For me it is important that the beauty and nature of the wood is elevated and shines through.
Wood Selection
After careful consideration, I settled on using three types of wood for the box. Ash and African Teak to form the main construction and Sycamore for the internal, removable tray. I love the contrasts between the light and dark woods, the deeply patterned grain of the Ash against the plainer Teak and Sycamore.
What's the Best Material for Lining Boxes and Furniture?
For my jewellery box, I wanted a fabric that had an intense colour and luxurious feel. It had to make an impact when opening the jewellery box. My mum's favourite colour is blue, which narrowed down the colour selection. However I wondered "What's the best fabric for lining boxes and furniture?"
Another big consideration for me was to use a fabric that is as natural as possible. I am active and passionate about reducing my environmental impact. So using a natural product for me was key.
That's when I discovered baize. The 100% Merino Wool baize stocked by Baize and Wool Fabrics in particular. Baize combined the intensity of colour I was seeking with being biodegradable. It also has a feeling of luxuriousness which fits the nature of jewellery box.
I ordered a sample to see how the baize looked and felt in the hand. It was then I discovered an important property of baize that I hadn't considered: its flexibility.
Due to the scale of the tray insert that I was intending to line, the flexibility of the baize came into its own. The fiddly corners and tight spaces were no problem at all.
The Final Product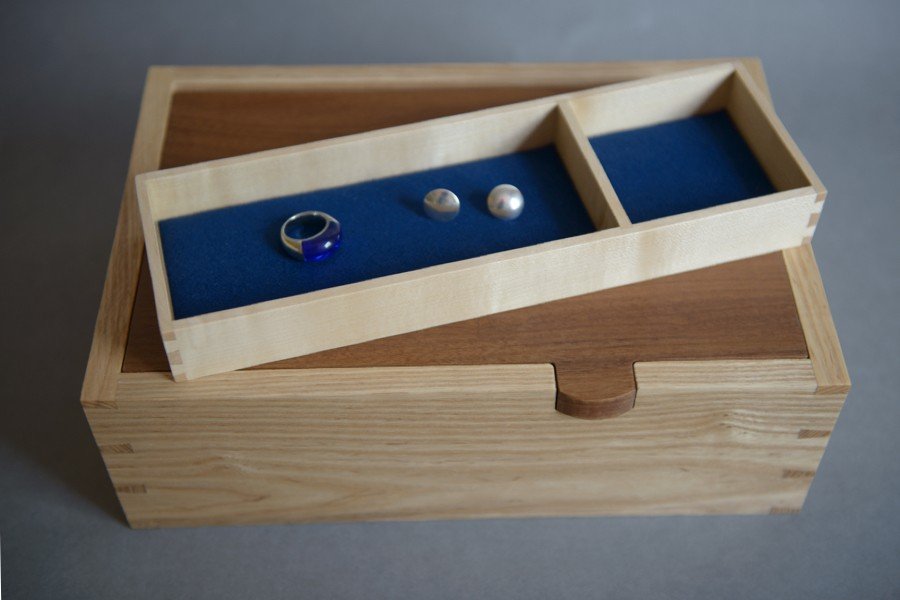 All the details had to be considered and finished well, from the dovetails through to the lining. I felt that baize did add just the luxuriousness I was seeking for the box lining, providing a perfect backdrop for my Mum's favourite pieces of jewellery.
---
Products Used by Nina
Double Sided Fabric Tape
Our double-sided fabric tape is the perfect companion product to baize for fixing baize to wood. For small projects such as this, it can be used alone, and for bigger projects it is used for positioning.
Do You Have a Story to Share?
If you have purchased any of the fabrics we stock and would like to share your story, we'd love to hear it and share it on our blog. Contact us via our contact form or leave a comment below!