Master craftsman Simon Lucas has specialised in working with baize for over 30 years, using it to make exquisite luxury tablecloths. Here he explains his process of turning baize into his much sought after table cloths.
---
I started out making fine Baize tablecloths completely by accident. After graduating in fashion from Middlesex University (past alumni includes Vivian Westwood), instead of following the crowd and entering haute couture, I noticed an opportunity in supplying luxury card tablecloths to the renowned West London department stores – Selfridges and Harrods.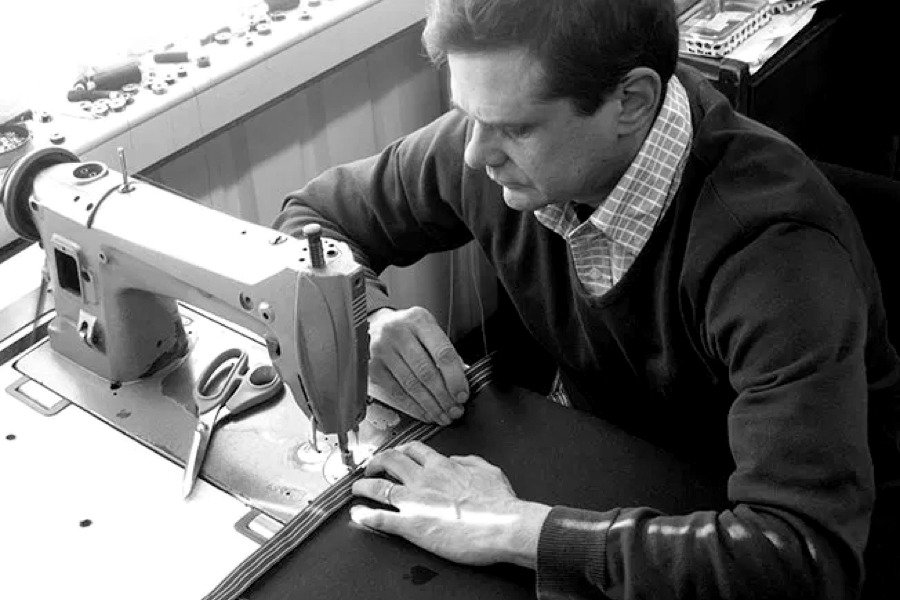 After supplying them samples for the coming Christmas period, they loved them and ordered in bulk. My business took off from there.
In over 30 years of hand-making my luxury tablecloths, I have never had a baize cloth returned as faulty. I attribute this to my process and my eye for detail.
It Starts With the Baize
Baize is an amazing natural fibre cloth made either with a high percentage of (95%), or entirely from (100%), wool. Either way, the wool makes the cloth extremely hardwearing and thus ideal for making tablecloths.
I only select the finest baize available and have done throughout my career. Using one of the oldest companies in the UK. As I have worked with baize for such a long time I understand its working properties. This is why I decided to set up Baize and Wool Fabrics. To directly supply other craftsmen and women who want to use this fabric. This way I can offer my advice and years of practical experience to customers when they order.
An Eye for Details
My process starts with my eyes. Firstly I unroll the fabric and inspect it carefully for blemishes. Because quality baize is a natural material, there are inevitably variations in the texture of the fabric. I trust my supplier in terms of quality, but I like to make absolutely sure each roll of fabric is perfect. It is this detail that has meant my name – Simon Lucas – has become synonymous with meaning quality and luxury in relation to tablecloths.
Making a Luxury Tablecloth
After I have thoroughly checked the cloth I chalk out the outline of cloth that I'm making and then cut the cloth by hand.
I make stock cloths that are a standard size, but I also make custom-made cloths, where customers can choose a design they like and then select the dimensions that they want it made to.
Over the years I have been commissioned to make custom cloths for luxury yacht fit-outs, huge gaming cloths to fit over the benches in the pods of the London Eye and my cloths have even been used for a televised Poker tournament!
I like to edge many of my cloths with a contrasting braid or ribbon. Again I select only the finest braids and ribbons for this detailing from another British company that also holds a Royal Warrant. This company also produces braids and ribbons exclusively for me using traditional methods.
Again I thoroughly inspect both sides of each roll of braid meticulously, ensuring it is free of blemishes and discarding any I find.
Sewing and Finishing
Finally, it's time to sew. Each cloth is hemmed with a single line of stitching. Then the braid is attached to the cloth with a further two lines of stitching. This is where my experience and First Class Honours degree in Fashion and Textiles comes in handy. Even though it's hidden on the reverse side while I'm sewing, I aim for one line of the braid stitching to lie exactly over the hemline so that only two rows of stitching are visible on the finished cloth.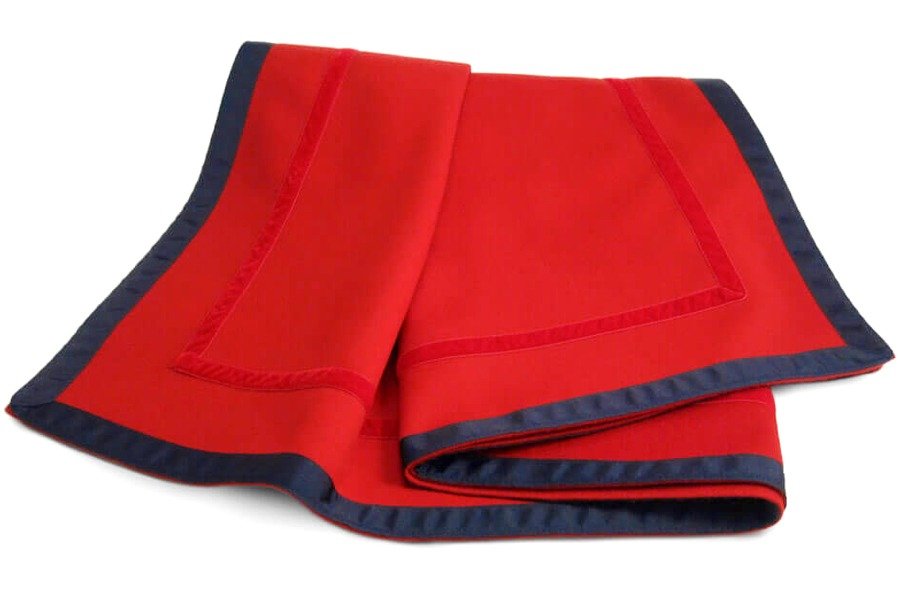 When a cloth is finished I iron it as a final quality control check. I then carefully fold it and package it ready for dispatch to its new owner.
Buying Simon Lucas' Luxury Tablecloths
If you would like to buy a Simon Lucas tablecloth, they are available under products for The Home where we are expanding our stock of luxury wool-based homewares.
---
Do You Have a Story to Share?
If you have purchased any of the fabrics we stock and would like to share your story, we'd love to hear it and share it on our blog. Contact us via our contact form or leave a comment below!